We've assembled the right one.
The team at EnivroMint is a blend of former real estate insiders, software developers and accounting professionals. We all work together to deliver the most complete back office solution for the real estate industry today. Read more about our key team members below.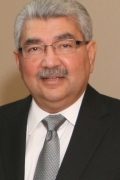 Aaron (Eric) Joseph, CA
President and Founder
In 2003 Eric Joseph founded Enviromint (formerly Real E Net). He is the co-owner of the business and he also owns several profitable real estate franchises located in Winnipeg, Manitoba. When not at work Eric enjoys spending time with his family.
Contact: eric.joseph@enviromint.com
Marc Labossiere, CMA FCMA
CEO
Marc Labossiere is responsible for the day to day operations at Enviromint. Marc joined the Enviromint team as a co-owner in 2006. Marc resides in Winnipeg, Manitoba with his family.
Contact: marc.labossiere@enviromint.com